Happy Anniversary, Jim McCarthy!

For over 30 years, Jim McCarthy has been a significant member of the HABBERSTAD family. He began in the parts department at the relatively tender age of 19. He chose the dealership because of the opportunities it presented, giving him room to learn and grow. Throughout the years, Jim's dedication and attention to detail led to his rise to the post of General Manager of all three Habberstad dealerships on Long Island. Under his guidance, Habberstad BMW has become a leading and award-winning dealership in the country.
His long history in the automotive industry has given Jim a unique perspective. He's seen technology revolutionize the way customers find and decide on the cars they drive, making dealerships even more competitive. Being that Jim is a true fan of BMW and keeps on top of changes to the industry, he has led his Habberstad team to being one of the top dealerships in the eastern region. He's also had the pleasure of welcoming new generations into the Habberstad family; he's seen the children of both owners and employees join the team at Habberstad.


Jim's goal is and always has been to provide exceptional automotive products and service to the community, but he also emphasizes the need to give back to the people who helped make Habberstad such a success. He's spearheaded many notable charity drives on Long Island, including events that help fight breast and colon cancer.
When he's not involved in putting people in the finest cars on Long Island, Jim stays busy with family, friends and sports. In the past, Jim won multiple titles and trophies amateur car racing. He reached the highest level as a participant in the Sports Car Club of America. These days, he enjoys watching his children play soccer, and spending time with them skiing in Windham.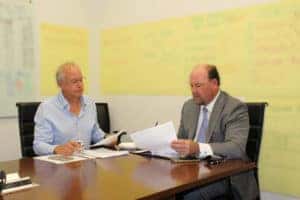 Jim said, "I am very grateful for the opportunity Erik gave me 24 years ago when he offered me my start in management."  The two of them have worked in concert for the last 24 years, and have grown the company from 30 employees to over 200 at multiple locations.
We invite you to come in and say hello to Jim, who helped make Habberstad an award-winning car dealership. We hope to have his wisdom and insight for many years to come. Happy 30thAnniversary, Jim.